27 June 2019 –
Consumer Healthcare Products Australia today announced a partnership with Life Education Australia to promote Self Care and improve health literacy levels.
"No one in Australian history epitomises Self Care like Healthy Harold. Since 1979 he has transformed early education, placing a strong emphasis on health literacy and preventative health," explained CHP Australia CEO, Dr Deon Schoombie.
"We are thrilled to partner with an organisation as passionate as us about empowering Australians to improve their health and enhance their well-being."
CHP Australia will become a Life Education Australia educational content partner on 1 July and will provide expert advice around Self Care to boost health literacy among Australian parents and teachers.
Life Education Australia CEO, Verity Blackman said the partnership will support Life Education to promote a whole of community approach to health.
"For 40 years Life Education has been empowering children to make safe and healthy choices. Parents and teachers play a pivotal role in modelling healthy behaviours to children. It is important to arm them with the skills and knowledge they need to raise the next generation of healthy young Australians."
--
About Life Education
Life Education is Australia's largest provider of preventive health education to school children. With the help of our iconic mascot Healthy Harold the giraffe, Life Education has been empowering children and young people to make safer and healthy choices for 40 years. We work in more than 4,200 schools and preschools across Australia, with more than 710,000 school children participating in our program each year. Our 130 specially trained Educators visit students across Australia via our 100 mobile classrooms. For more information about visit: www.lifeeducation.org.au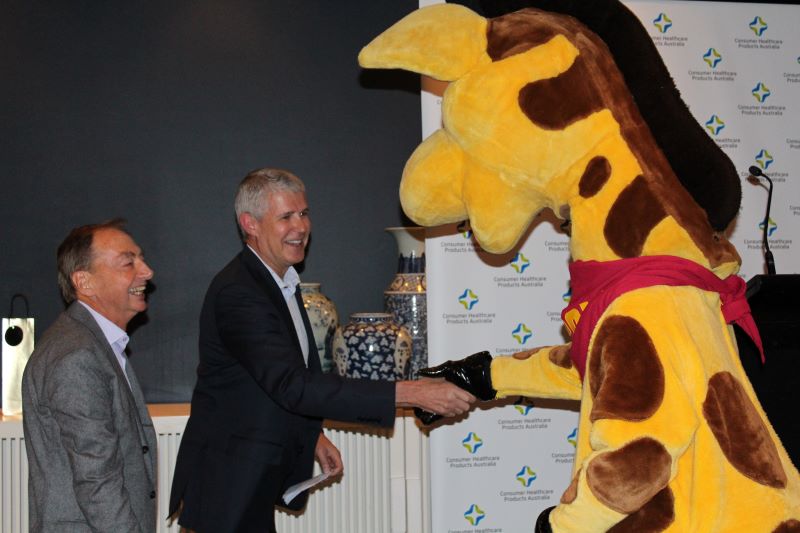 CHP Australia Chair, Lindsay Forrest, CEO, Deon Schoombie and Healthy Harold.